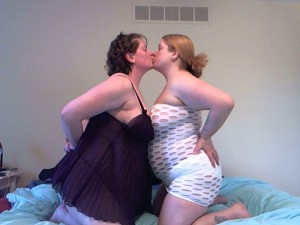 Last week, I posted about my day. This week, I thought it would be fun to post a day in the life of two cam girls. Here's everything that happened when I worked a 2 girl cam and phone sex day:
Created Twitter pics. We kept laughing and had trouble making them.
Created photos for a guy who purchased dirty pics through our non-NiteFlirt site. Did one with us sucking either end of our double-ended dildo, one with us both fucking our pussies on it and one with Aubrey sucking it while it slid into my pussy.
Tweeted on all Twitter accounts.
Guy purchased session off NiteFlirt for later because he needed to take his Viagra first. We scheduled a time to play an hour and a half from when he paid.
Guy did 2 girl cam-to-cam nude show. Aubrey came on my mouth then sucked double dildo while fucking me while I vibrated pussy. I came. Then we double fucked the dildo and she came again. We watched him cum while we continued to fuck the dildo. He had a huge load!
Did our scheduled 2 girl show with the man who needed to take viagra. It was a 2 girl Domme show which included humiliation, spankings and jack off instruction while he wore a slip, nylons and panties. He even danced for us. We called him our "panty monkey". Aubrey came on a mini Hitachi while we watched him stroke, then I did the same. We teased him after our orgasms and even flashed our tits at him after he performed tasks to earn a view of our nipples.
Aubrey got a solo call while I set up 2 girl text/IM session with Nick, a sexting customer from my non-NiteFlirt site.
Had a dirty ATOGM cam show session.
We did the text/IM session with Nick. He does sessions with me in which I create dirty stories with key components he gives me at the start of the sessions, usually revolving around a character named Selena. This time it was a story about her becoming "entertainment" for her friend's father's friends at a poker game. Story ended with Selena being used by all the blue collar, middle aged men at the poker game.
Aubrey got a solo call that lasted about an hour. I could hear her cumming over and over again from her room.
While she took the call, I ordered food, took her puppy out, played with her puppy a bit and chatted with men on Skype. Our food came and I ate (all before Aubrey got off the call!)
Aubrey got off the call and ate.
Call came in from a long time dominant caller who has been splitting time between us and occasionally does 2 girl calls and shows.  He ordered us to sit on chairs with our backs to each other. We masturbated with nothing but our heads touching. It was such a tease! I would have loved to finger Aubrey or eat her pussy.
Aubrey got another solo call.
Calls slowed down for a bit. We had coffee, talked, looked at some things Aubrey had delivered from Amazon. Replied to emails. Had a few chats on Skype.
Did a cat fight/foxy boxing show. We were wiped and ended the day afterward.