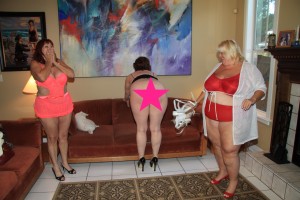 My vacation visiting Candy in Florida was perfect! I got a taste of summer over the four days in paradise. We swam in her heated pool, relaxed in the hot tub, had many tasty meals including mussels twice (one in a light cream sauce with wine and one in a tomato, mushroom sauce with a kick), I got a mani-pedi and watched a gorgeous sunset over the water from a beachfront roof top deck. Aside from getting much anticipated face time with one of my closest friends, the highlight of the vacation truly was making a new connection with a really cool friend of Candy's, Mona. And then of course, there was the photo shoot.
Candy, Mona and I loaded Mona's new flogger, a bunch of slutty outfits and heels into Candy's mustang and headed to Candy's photographer friend's fabulous house Friday evening. The action began nearly the moment we walked in the door. Mona stripped without waiting for permission and Candy and I were quick to follow her lead. Soon, the three of us were in hot outfits taking turns with the flogger while our photographer (turned pornographer) snapped away. Candy was absolutely gleeful while holding the flogger. I think she enjoyed being able to hit as hard as she liked on my ass. I don't think she held back and it showed! My ass, particularly my right cheek got pretty red by the time she was done. The best part was listening to Mona's reactions. She is rather kink-light, at least when it comes to sadomasochism. It was all captured in the pictures! Our photographer was super professional and great fun to work with, but I must admit, the best part was getting a "here we go" out of him when one of us would get spread eagle and show off some pussy.
We switched from lingerie to bikinis and hopped in the tub next. It was fun being in the company of two hot women, stripping out of our suits and holding up our tits for comparison. Mine and Mona's are far from small, but look tiny compared to Candy's!
The pictures are already packaged as goodies on Niteflirt, ready to serve as jack off material!
We took some really great videos as well, including hot tub teasing, a punishment scene for my butt and we even got Candy on her knees for a bit! Unfortunately, the videos were accidentally erased. It really is a shame because Florida is so far away and I don't know when we'll get to do it again!
My time with Candy could not have been more perfect. I'm sure it won't be long before I get the itch to visit again.