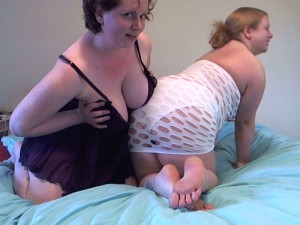 Aubrey and I have been having a blast on (and off) calls and shows lately. See left for a picture from our latest attempt at a series of sexy pics to tweet. Yes it has big breasts and an ass that won't quit, but what were we going for exactly? We giggled through a bunch of the pics we took that day!
We had so many fun calls, it's hard to pick out the highlights but one definitely stands out. A man contacted us looking for a fake fight (or foxy boxing, as he called it). He wanted us to act like we were really hurting each other by moving and moaning like our fake hits were painful. As he and I went back and forth, it occurred to me that he might enjoy an actual fight. I offered up a cat fight at our extreme rate and he was game. For 26 minutes, Aubrey and I punched, kicked and slapped each other on cam for him. To the viewer's particular delight, we pulled each other's hair. Aubrey got the worst of it. I yanked super hard and beat her ass while she screamed into the camera until he came. It was hot play for us, as we are both masochists and a little wild, in general. Our chests were thumping and our pussies were dripping afterward. I think Aubrey had a touch of sub space going on too!
I just put up a month's worth of dates that you can catch us on cam and phone. Tomorrow is a 2 girl day. Can't wait to spend my day with this hot and amazing girl!