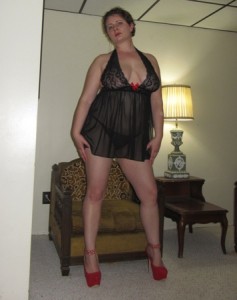 One of the top things I'm asked by callers is, "What are you into?" I often throw the question back to the caller because I'm here to serve him. I get off on pleasing people and the fact is, I like so many different things that a caller is bound to get me going by having me cater to him. It's easy enough to figure out my kink list by exploring the pages on my site and blog posts, but I thought I'd make a list as close as possible to being in order by favor (though this should be viewed as fluid depending on my mood or more likely, the person I'm playing with). I'm also sharing a favorite porn list.
My personal kinks:
Being topped by a dominant man – a Master or Sir. I like service, being controlled, pain, humiliation, degradation to an extent and rope play.
Vanilla play is shared in the top spot with being topped by a dominant man. I am submissive by orientation but it is as important as regular sex for me. This includes giving and receiving pussy eating, sucking cock, fucking, making out, hand jobs, etc.
Cum fetish (ok, this goes with just about everything on the list, but it earns a spot because it's a huge part of my personal kink)
The idea of cuckolding someone (idea only as I have never done this)
Foot fetish play
Playing with sissies
Being topped by a dominant woman
Topping a submissive man or woman. I like playful humiliation, control, receiving service and body worship. I am becoming more and more interested in exploring sadistic levels of pain.
Tickling (this is more something I am curious about. I think I'd love it if I played more with it. If you like tickling and you're reading this; please consider trying 2 girl so I can try this out!)
Jack off instruction/guided masturbation
Smoking/vaping fetish
Small penis humiliation
Shoe fetish
Role playing
It's hard to list everything as I have tried so many interesting things in my years as a phone/cam girl, so this is just a general list. There are things I have done once, loved but never repeated as well as variations and elaborations on things on the list. I also think I may have forgotten some things completely, but this is what comes to mind for now.
My favorite porn, in order:
Solo man masturbating and cumming
Cuckold/creampie eating
Older man, younger woman
Pussy eating (close up)
Gangbang/gangbang creampie/pussy bukkake
Submissive woman being dominated by a man or men
Submissive man being dominated by a man
Submissive woman being dominated by a woman or women
Foot fetish (dominant woman making a man worship her feet)
Straight man sucks cock
Autofellatio (self suck)
Hentai
Voyeur
There you have it; a full guide to my personal kinks. Coming soon: a list of my current fantasies!