Last week, I received a call from a very nice, very kinky and dominant man, Whipmaster. His tone was sweet and his mind was creative and after playing with him three times and chatting over Yahoo IM for a week, I fear I am hooked.
On our first call, I told Whipmaster that I had some jute rope. I had bought the rope a few years ago when I first entered the scene at a class I attended; the first event I went to which turned out to be the beginning of me turning my years of fantasies into reality. I don't get to use the rope often. I want it used on me and my lover doesn't have the skills yet. Whipmaster sounded excited and inspired when I admitted I had two lengths of it. He ordered me to tie the rope to the bed, glide it along my back and up between my legs. While laying on my back, Whipmaster told me to jerk and tug on the rope so that it would burn and stimulate my clit. I came.
We set up a cam show a few days later. Whipmaster ordered me to be naked when he called. I was to appear on cam with red lipstick on my lips, my 5 ½ inch heels on my feet, my dog's collar around my neck and nothing else. Feeling very submissive toward my new caller, I did as he said and was happy that I had pleased him with my obedience. He had me repeat our first call so that he could actually watch me cum on the rope. Then he had me stand up and walk with rope wrapped around my body. I felt a little timid and a bit humiliated, walking around my apartment with rope up my cunt and nothing but heels and a collar on. But I loved it. At the end of the session, Whipmaster had me attach my dog's leash to the collar and I wrapped the leash around the chair, pulling on the chair, feeling his control over me.
On our last call, Whipmaster had me lay back on the bed. He saw that I had my two lengths of rope wrapped beside me. He had me whip my inner thighs with the rope. I enjoyed feeling the harsh spank on the sensitive skin on my legs almost as much as knowing that Whipmaster was excited about hurting me.
To my incredible surprise and delight, Whipmaster decided to give me some kinky toys to use when we play. He sent me out with a shopping list:
Two 28-inch dog chains
One collar
One leash
Four locks with four keys
I went shopping on Sunday with a friend I met in the scene, Miss Loving. She and I started at a pet store. She was impressed with Whipmaster's list and was double-impressed when she noticed that the store carried what she calls "people collars not dog collars". The collar we picked out has a ring in the middle of the collar, rather than it being beside the buckle. Miss Loving explained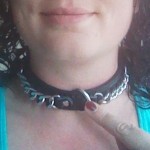 that this location would actually be bad for a dog, therefore it is a "people collar". We then stopped at Dom Depot and bought the locks.
I'm so excited about the fun I've had with Whipmaster so far. He has named me his bondage/pain (or b/p slut) and remote slut. As much as I enjoy quickies with my callers, it's the relationships that develop between me and my callers that really make me want to turn my phone lines on. I can't wait to see what Whipmaster has in store for me!