A few weeks ago, Aubrey and I rented a BDSM dungeon where her boyfriend (my ex-Dominant), Michael and a photographer friend of hers shot pictures and videos of us. Aubrey's fiancé, R showed up a few hours in to help out with the shoot as well.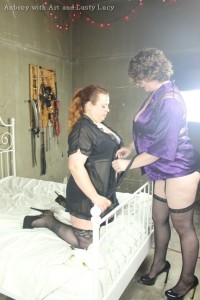 After about an hour of Michael and the other photographer setting up lighting and the first set area, we got started. For the first set, we had a bed set up in a very dingy looking room with chains, gags and scary-looking implements hanging on the wall. We put on sexy bra and panty sets with satin robes over top and stockings and heels on our legs and feet. We slowly removed most of the clothing while Michael and the other photographer snapped away. After getting lots of pictures, Michael videotaped Aubrey fucking me to orgasm with the strap on, me sucking it on my knees and me cuffing Aubrey spread eagle on the bed, beating her pussy with a strap. Her pussy got so red and though it wasn't planned, I made her cum with the vibrator because her pussy got so wet from the beating. I also licked her cunt until she came again on my mouth.
Next we moved to the medical area of the dungeon. Aubrey played doctor. She gave me a breast exam and opened my pussy wide on the gynecological table. Before the shoot, I was a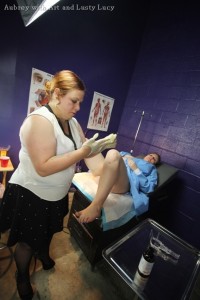 bit nervous about having R see me naked. At that point, I wasn't too worried about the other photographer, though I didn't know him. I have done shoots with professional photographers who are strangers a number of times and Michael has already seen me naked and had me in very vulnerable positions in the past. But I was a little nervous about R, as he is a friend. It was when I had my feet in the stir ups and my pussy spread wide that R walked in and it made me nervously and hysterically laugh for quite some time. In fact, I kept pushing out the speculum out! All my nerves went away when Aubrey climbed on the table with me and we started making out though.
The next scene was extra fun. Michael is very skilled with rope and helped Aubrey and I take turns stringing each other to a hard point so we could take turns beating each other up. He didn't do anything as elaborate as his skill will allow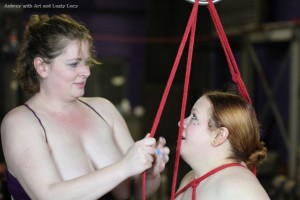 (there is a great example of this in this goody bag, where I include one picture of me tied in his ropes with his cum on my face), but it was still hot being tied up again. My very favorite part of the day was Michael spontaneously adding rope to the chain of my nipple clamps, pulling it above my head and through the ring at the hard point and back around to tie the other end to my ankle after he lifted it off the ground. I stood on one leg for quite a while hoping I wouldn't lose my balance, causing the nipple clamps to be yanked off.
Next, Aubrey got on a spanking bench and I beat her ass crimson with my hands, a braided flogger and a rubber pipe-like implement, which lead to my second favorite part of the day; seeing the puddle of pussy juice Aubrey left on the bench when she got up! It was so hot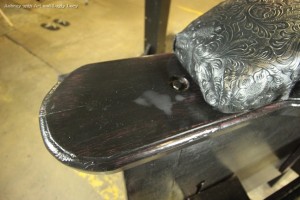 and the perfect way to end our day in the dungeon. We will definitely be booking the space again sometime in the future.
Both Aubrey and I will be adding these pictures and videos as goody bags for purchase soon!