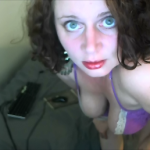 I wrap my rosy red lips around my dildo, look up at my webcam and slide my mouth down. I glance away from the cam for a moment to watch John stroke his cock, already wet with pre-cum. He's lost, as he says, watching me; imagining I'm taking his cock, instead of my toy, down my throat . I slide my mouth up and run my tongue slowly over the head, "I worship your cock with my hands," I say, squeezing a bit with my hands at the base. "I worship your cock with my mouth," I suck on the tip. "I worship your balls and the sperm within." I smile and look up at the camera again with my green eyes wide.
His face gets serious as he strokes faster, bringing himself to the edge. I can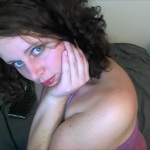 see all the pre-cum dripping out as he slows down. "Your cock is perfect and beautiful. My mouth, my hands, perfect for your cock. Your cock belongs in my mouth. And my mouth, John, belongs around your cock." John moans and strokes faster again.
I'm not touching myself. I'm focusing on John. I'm on my knees in front of the webcam, still looking up, shifting a little, feeling that my pussy is getting wet as I continue with the lines he gave me, "Watch me, John. Watc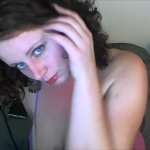 h me give your cock what it desires." I take my toy down as far as I can, imagining I can taste the leaking pre-cum. I move up and down, suck off the tip and say, "Lust after me, John. Lust after my sweet mouth. Cum in me, John. Fill me with your seed. I worship you." Keeping my eyes on him, I hear him moan and I watch him cum all over his hand.
I smile and wave goodbye. I turn off my cam and hang up my phone. As I sit up, I marvel at how wet this man makes me.