An old email from a very special submissive sissy-boy, Chastity:
Hi Mistress Lucy
This is Chastity, your chastity slave.  I first spoke with you on May 3rd, I remember it like yesterday.  It had been I believe two weeks since I had placed the chastity belt on and was already pretty horny.  I was dressed in some of my favorite linge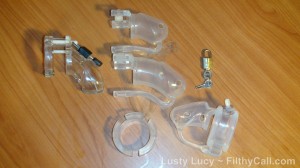 rie, a white bridal lingerie set that is my favorite.  I immediately fell under your control listening to your sweet voice and laughter. I think part of what hooked me on you was that during this very first call while locked up you pulled out one of your toys and pleasured yourself to an orgasm.  It was incredibly erotic to hear and such a turn on, I really wish I could have fully enjoyed listening and not thinking about how sore it made my cock ache in it's cage. I am a bit saddened writing this and knowing it's the only time I have gotten to hear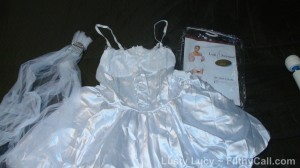 her have an orgasm. If there is ever anything I can do to help you orgasm or received pleasure you know I'll do anything for you in a heartbeat. I was both disappointed and also excited that I was not allowed to orgasm, when I had done this several times before making a deal with myself to not unlock until I get permission from the phone sex operator they almost always allowed me out of my cage in a matter of minutes and would tell me to cum not even 5 minutes into the call. Thankfully Lucy knew exactly what I needed and has since given me everything I could hope for from her. I am very lucky to be able to consider myself her property and that she controls my cock and my orgasms. There is nobody else in the world I would want to hand over such power to.
May 24th; this was the second time I got to speak to Mistress Lucy, I remember being really horny at the beginning of the call since I had not cum at all the first time I spoke with her. The thing that really sticks out from this call was her making me spank my ass. I have never really been into pain or spanking but she wanted me to do it loud to where she could hear it and to make my ass red thru my panties. It was very erotic being told to spank yourself and imagining it was Mistress Lucy doing the spanking by her own hand. I was constantly remind the rest of the day who owns me every time I sat down, and it such a wonderful feeling that I am owned by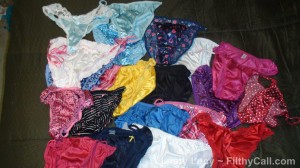 such a beautiful lady. I also informed her that I had a fake pussy toy that I was really hoping to be able to have sexy with, she laughed and said I would stay locked up and not even be allowed to use the toy but for me to place a pair of panties over the pussy and kneel before it as though it was her pussy and lick it thru the panties. I found this very humiliating yet also highly erotic. The way Lucy instructed me I truly felt I was kneeling right before her pussy I could even smell how sweet it was. It was like I was there, god I wish i was really there.  After some begging she did grant me permission that if I could cum while wearing the cage that I was allowed to do it but must cum all over the fake pussy. Even though cumming like this offers a brief second of relief it's immediately followed by intense pain and frustration for me. I feel like I get the release but am left without really enjoying cumming. I think it's what's called a ruin orgasm, it's the entire build up but then the pleasure is quickly pulled away from you is the only way I know how to describe it. Amidst still feeling frustrated Mistress Lucy then commanded me to eat my cum off the pussy and clean it up completely, she then told I was to leave the cum on my face until after I left feedback and then to go take a cold shower which I did as instructed.
On June 30th I sp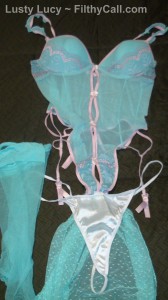 oke hoping to get a chance to unlock and cum, my balls were very swollen and sore and really needed release. Mistress Lucy did not allow me to cum at all but promised if I called her back in a few days I would be granted permission.  Needless to say I was very disappointed but I knew that Lucy knew what was best for me. This call was very short but I remember her telling me how excited she gets watching cuckold porn and how she'd love to have her own cuckold slave.  This was all very new to me but I must admit hearing her describe it and to hear how excited it made her also turned me on very much. I won't talk much on this as it's kind of scary to think about and it also confuses me about how excited it makes me feel as well.
On July 2nd I spoke with Mistress Lucy and was very excited this was the day I was hoping she would let me cum outside of my cage. She did!! After about a month and a half Mistress Lucy allowed me to unlock my cock cage and slip it inside my fake pussy. I wish I could say I gave it a good pounding but I don't think I made it longer then 10 seconds. It felt so good to finally get a good clean release without any of the frustration. It was very humiliating doing this while Mistress Lucy would laugh at me, making fun of me and telling me how I could only get a fake pussy to pleasure myself with instead of the real thing that I would probably never get and how it was good because I'd probably never be able to satisfy a real pussy and give it the pleasure that it deserves. She told me I did not deserve the real thing, which mad me sad because I know she was speaking the truth and now that she controls my cock even if I had a chance in the real world I would not even be able to do anything about it. Mistress Lucy immediately made me put the cage back on and made me promise to wait until I received her permission to cum or take the cage off.
On July 9th was the first time I spoke to Lucy since getting to cum outside of my cage. This call was probably the shortest of the calls I have had with Lucy, I remember after about 15 minutes of teasing Lucy began to talk about giving me a girly name. My initial reaction was one of fear,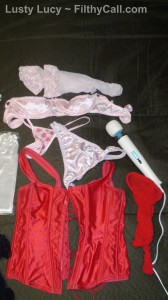 I've always dressed in lingerie and done some slutty stuff before but to actually be given a girl's name was very scary. Just a few short minutes after she told me I would soon be getting a girl's name she commanded me to cum in my cage, which because of my nervousness over a girl name I was not able to cum on command and asked her if I may use the Hitachi to help me cum. Once it was vibrating against my cage I had no issues cumming and released pretty quickly to another ruined orgasm. This one hurt quite a bit I remember, I remember when I released how my cock would spasm but because of still being in the chastity belt it has no where to go and that's a really intense painful feeling. I remember after this call how excited I was to learn of my new sissy name, once I got used to the idea it really turned me on like never before. I could not wait to talk to Lucy again to learn it.
My last call with Mistress Lucy was a very fun, She has recently changed some of her photos on NiteFlirt and there is one in particular that really drives me crazy, she looks amazing. I would love to see the whole set, she is such a beautiful person. It had been about a full month since I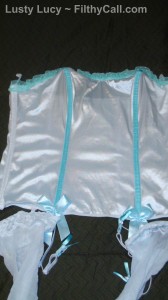 was last released from chastity and allowed to cum in the fake pussy that I have, and about 3 weeks since I had last spoke to Lucy. I was very nervous at the beginning of this call since I knew I would be getting my new girly slut name. Mistress Lucy made me use the Hitachi on my balls and rub it up and down the underside of my chastity belt, when it's on the balls I am ok it feels good but not enough to make me cum but when it's on the cage part i quickly attempt to get hard and want to cum really badly. By this point I was really desperate to get to cum outside of my cage, and I was very fearful that Mistress would only grant me a ruined orgasm thru the cage, after what seemed like forever being teased like this and begging to be allowed to unlock, Mistress decide to let me calm down and told me that she had come up with a name for me; Chastity, which seems very fitting for me. I am now Chastity.
This call was also the first time I really got a lecture and a stern warning from Mistress Lucy. She informed me she wanted to start giving me assignments to do between our calls together, writing this email was the first one, she wanted me to get a pen to write down exactly what she was wanting and I told her to give me a second, well I quickly learned my mistake and was informed I should always ask for permission for more time and address Mistress Lucy more properly. I felt very disappointed that I let her down and promised to myself I will always try to stay on her good side and make her as happy as I can. After writing down  my assignment the talk somehow changed to ass play and if I had any toys, I told her that I did own several dildos and a butt plug. This news surprised Lucy as we had never discussed it before and she asked if I had ever used them before with my ass. I embarrassingly told I had experimented just a few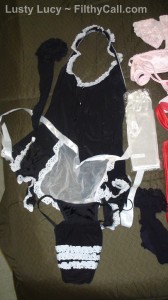 times before but was not something I fully enjoyed doing. Well needless to say she had me take one of my dildo's, I obviously took the smaller one that I have of the two and lubed it up as Lucy had asked me to do.  She then had me sit on it and ride it for her,  I must say after the initial pain it felt pretty darn good, hearing Lucy egg me on also made it pretty easier. I could tell the pressure was building up in me and riding it surprisingly felt like it was gonna make me cum, Lucy wanted to see if I could cum while wearing the cage without touching it at all, at first I was not sure I would be able to do this but when she started counting down I knew I was gonna cum for the first time ever without touching myself and while riding a cock. Of course if felt really slutty and humiliating but it also felt very good to release some of the pressure even though it quickly began to hurt. I was afraid this was gonna be it for the call with Lucy but to my surprise she told me to unlock my cage and begin to play with just the head of my cock. It did not take me long to quickly get right back on the edge while doing this, and thankfully my wonderful Mistress granted me permission to have a unlocked orgasm.  it was amazing, it felt so good after so long to get a full release, it really made my day!! She then instructed me that I would get to stay free from the cage but I did not have permission to touch it until I heard from her again.
It's been two days since then and I had forgotten how great it feels to be free of the cage,  I do admit I miss it and feel like a part of me is missing. I also have to admit how incredibly  difficult it has been to write this and how exciting it is to relive all these wonderful great things and not be able to touch my free cock.  Almost as soon as I begin typing  it immediately grows and I'm not used to seeing it stand straight out, just like it's beckoning me to play with it, like i used to do everyday. I hope this is what you were wanting for my assignment, please let me know if you would like me to expand on anything or go more in depth and I look forward to many more and your next commands.
Love Chastity